Tencent Healthcare and Eisai China Deepen Strategic Partnership to Create New Paradigm of Digital Innovation
On June 26th, Tencent Healthcare and Eisai China signed a strategic cooperation agreement. The two parties will use Tencent Healthcare's pharmaceutical industry SaaS solution – NGES (Next Generation Engagement Suite), a one-stop management platform for physician interaction as a base, by deeply integrating Tencent's connectivity advantages and digital technology with Eisai China's core scenarios of customer management, multi-channel marketing and conference event management, Eisai China will realize a new paradigm of online and offline integration of academic communication, in order to help Eisai China open up the whole domain scenarios, link up "application islands", continue to cultivate the Chinese market with management upgrade and model innovation, and achieve high-quality development.
Yanhui Feng, Senior Vice President of Eisai Global and President of Eisai China, Alexander Ng, Vice President and Head of Tencent Healthcare, Yang Zhou, General Manager of NTA BU of Eisai China, and Yu Zhang, Vice President of Tencent Healthcare, attended the strategic cooperation signing ceremony on behalf of both parties.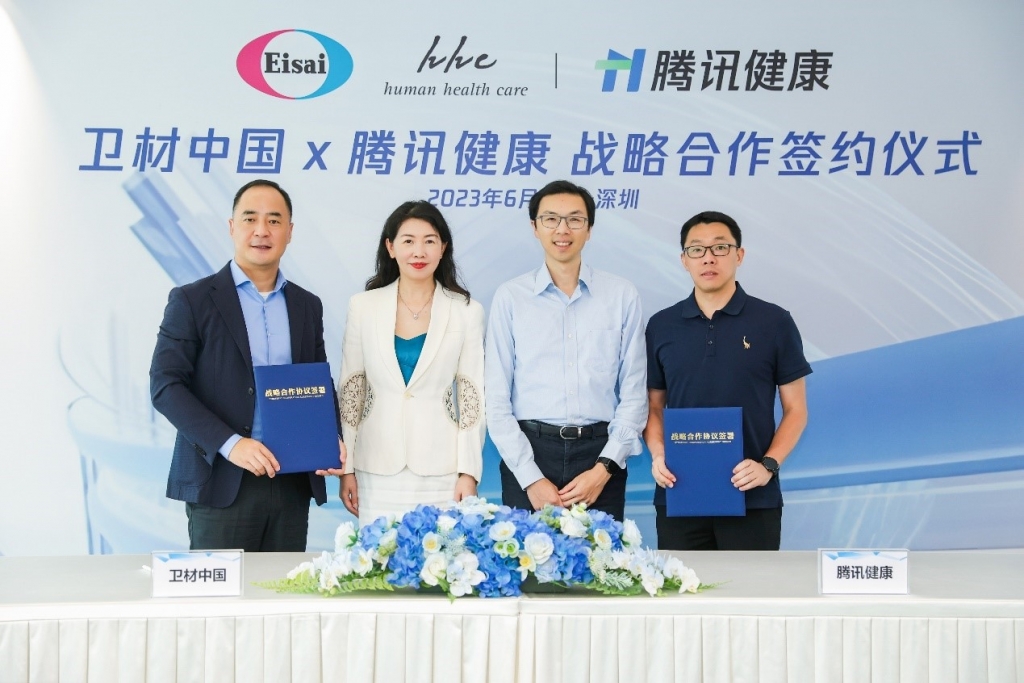 From left: Yang Zhou, Yanhui Feng, Alexander Ng and Yu Zhang
With the gradual improvement, the development of digitalization in the pharmaceutical industry is moving towards more intelligence and refinement. The application of various digital technologies will play an increasingly important role in reducing costs and increasing efficiency for pharmaceutical companies. As a branch of a multinational pharmaceutical R&D company in China, the introduction of Tencent Healthcare's intelligent pharmaceutical NGES platform is a comprehensive upgrade of the cooperation between Eisai China and Tencent's online conference scenarios. Through a one-stop access to the whole scenario of academic communication with professional doctors, Eisai China will realize accurate academic education with information collaboration and data interconnection to help market development and patient accessibility for innovative products in various fields such as neurology, oncology and GI related diseases.
NGES is Tencent Health's first SaaS solution for the pharmaceutical industry. With WeChat as the carrier, it takes the three scenarios, CRM (one-stop healthcare professionals visit), Events (online and offline meeting management) and MCM (multi-channel marketing), refines the whole process of doctors-interaction. And based on WeChat and other digital intelligence tools, it helps pharmaceutical companies deeply engage doctors in terms of one-stop access to doctors-interaction scenarios, reaching users while conducting two-way interaction and providing intelligent behavioral suggestions, making academic communication more convenient, smooth and efficient.
Yanhui Feng states: "Eisai China has always adhered to the hhc (human health care) corporate philosophy and practiced the hhceco (hhc ecosystem) development model. The deepening cooperation with Tencent Health is an important part of the 4New Strategies of 'new products, new channels, new platforms and new business' in China. Both parties will give full play to their leading advantages in the field of cutting-edge therapies and digital technology, jointly explore innovation model for the future-oriented specialized academic communication, establish efficient information transfer and sustainable business cycle, and continuously consolidate the infrastructure construction of enterprise information development."
Alexander Ng states, "The pharmaceutical industry has witnessed an accelerated pace of digital transformation amid the evolving landscape. Through NGES-based one-stop interactive platform, we hope to support Eisai China to reshape its model to engage healthcare professionals. With the online extension of academic-based multi-channel communication, Eisai China will become a more agile organization with a holistic business approach."
In addition to the NGES academicized communication platform, Tencent Healthcare formed a full map of digital capabilities to help transforming the pharmaceutical industry by enabling faster, more efficient, and more effective drug development and healthcare service and cloud security base. By embracing these digital technologies, pharmaceutical companies will continue to drive innovation and improve patient outcomes.
https://www.eisai.com.cn/wordpress/wp-content/uploads/2021/04/logo3.png
0
0
赵, 丰
https://www.eisai.com.cn/wordpress/wp-content/uploads/2021/04/logo3.png
赵, 丰
2023-06-26 10:29:52
2023-06-27 10:41:54
Tencent Healthcare and Eisai China Deepen Strategic Partnership to Create New Paradigm of Digital Innovation