EISAI TO PRESENT NEW LECANEMAB DATA, INCLUDING RESEARCH EVALUATING SAFETY PROFILE, CLINICAL OUTCOMES AND QUALITY OF LIFE MEASURES, AS WELL AS OTHER IMPORTANT ALZHEIMER'S DISEASE RESEARCH, AT THE AD/PD™ 2023 ANNUAL MEETING
Presentations Explore ARIA with the Use of Antiplatelets or Anticoagulants and Isolated ARIA-H in Patients from Eisai's Lecanemab Phase 3 Confirmatory Clarity AD Study in Early Alzheimer's Disease
Eisai Co., Ltd. (Headquarters: Tokyo, CEO: Haruo Naito, "Eisai") announced today the company will present the latest findings on lecanemab (generic name, U.S. brand name: LEQEMBI™), Eisai's anti-amyloid beta (Aβ) protofibril* antibody for the treatment of Alzheimer's disease (AD), at the 2023 International Conference on Alzheimer's and Parkinson's Diseases and related neurological disorders (AD/PD™) from March 28-April 1 in Gothenburg, Sweden and virtually. Eisai will present new findings from the company's large, global Phase III confirmatory study of lecanemab, Clarity AD, including research into the management and monitoring of amyloid-related imaging abnormalities (ARIA) and health-related quality of life (HRQoL) measures. Eisai will also host a symposium, titled "Patient Clinical Care Pathway in Alzheimer's disease: Dialogue Amongst Experts," which will address the evolving landscape in AD. The lecanemab data and additional research findings from Eisai's AD portfolio will be featured in 11 presentations, including seven oral and four poster presentations.
"Our latest research examines the real-world outcomes based on lecanemab's impact on clinical results and safety, including its effect on health-related quality of life. Through our ongoing research, we hope to help simplify the patient journey and improve the lives of those living with Alzheimer's disease," said Michael Irizarry, M.D., Deputy Chief Clinical Officer and Senior Vice President of Clinical Research at Eisai Inc. "In addition to lecanemab, Eisai is presenting on several other key issues that will shape the future of Alzheimer's disease and brain health, including the next generation of clinical care and diagnostic pathways, exploration of unique populations affected by the disease, and accelerating drug development. We look forward to sharing our latest findings, including new insights from Eisai's Clarity AD trial of lecanemab, with the scientific community at AD/PD 2023."
Key Eisai Lecanemab and AD Presentations
Two presentations related to ARIA in the Clarity AD trial will be presented during an oral session on Thursday, March 30:
– An analysis evaluating the use of antiplatelet and anticoagulant drugs in patients who experienced ARIA.
– An analysis of isolated ARIA-H events in the Clarity AD trial.
Research evaluating caregiver burden and HRQoL across multiple scales using Clarity AD data will be presented during an oral session on Thursday, March 30.
Research studying the characterization of Aβ protofibrils and the unique binding properties and mechanisms of Aβ clearance of lecanemab on Friday, March 31.
Designing The Next Generation Clinical Care and Diagnostic Pathway for Alzheimer's Disease: A presentation focused on a new pathway which interweaves clinical, biological and digital assessments to guide an individualized AD patient journey on Friday, March 31.
Eisai Symposium – Patient Clinical Care Pathway in AD: Dialogue Amongst Experts
Eisai is sponsoring a symposium featuring three prominent clinical experts in the field of AD, Dr. Alireza Atri, Dr. Sharon Cohen and Dr. Lutz Frölich, who will provide insights on the AD landscape, evolving diagnostic workflow, identifying appropriate patients, and addressing patient needs on Wednesday, March 29. The session aims to provide guidance on the clinical management of patients and drive effective communication between physicians and patients.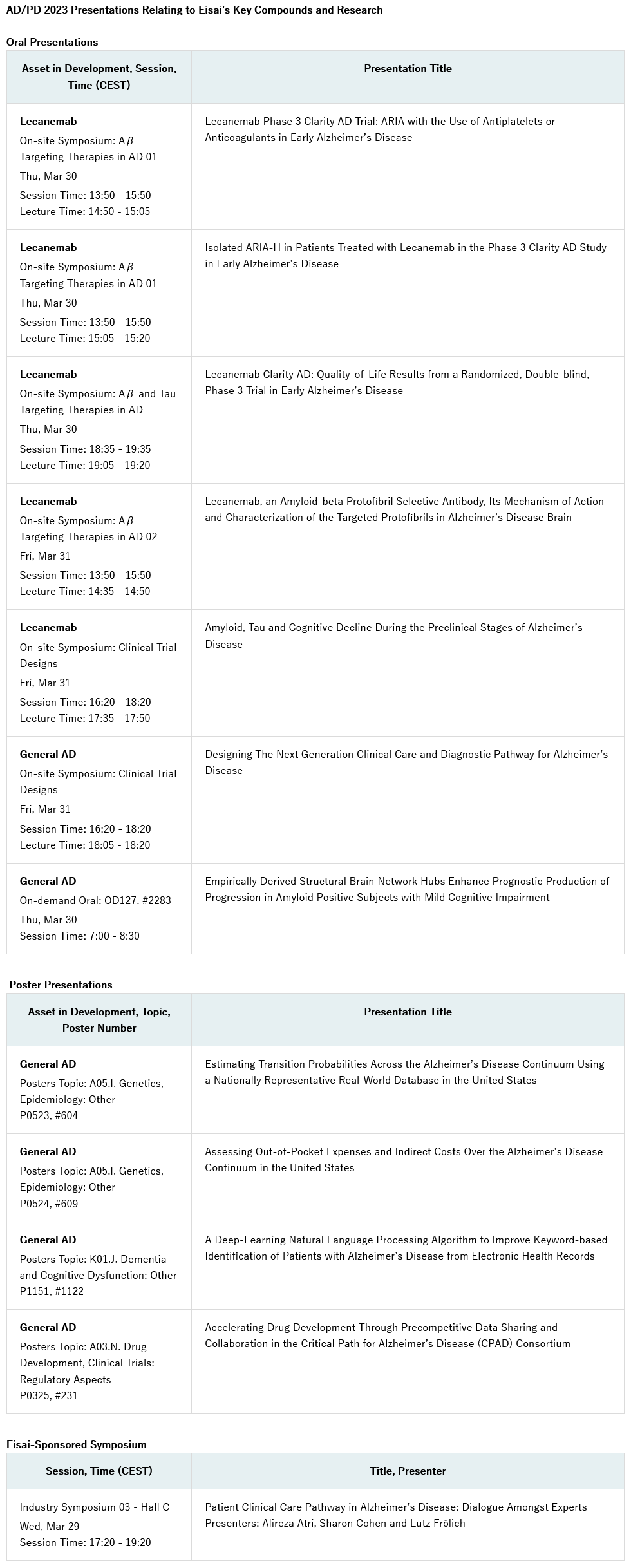 Eisai serves as the lead of lecanemab development and regulatory submissions globally with both Eisai and Biogen co-commercializing and co-promoting the product and Eisai having final decision-making authority.
* Protofibrils are large Aβ aggregated soluble species of 75-5000 Kd.1
Media Inquiries:
Public Relations Department,
Eisai Co., Ltd.
+81-(0)3-3817-5120
Eisai Europe, Ltd.
(Europe, Australia, New Zealand and Russia)
EMEA Communications Department
+44 (0) 786 601 1272
Eisai, Inc. (U.S.)
Libby Holman
+1-201-753-1945
https://www.eisai.com.cn/wordpress/wp-content/uploads/2021/04/logo3.png
0
0
赵, 丰
https://www.eisai.com.cn/wordpress/wp-content/uploads/2021/04/logo3.png
赵, 丰
2023-03-23 12:15:54
2023-05-04 12:17:50
EISAI TO PRESENT NEW LECANEMAB DATA, INCLUDING RESEARCH EVALUATING SAFETY PROFILE, CLINICAL OUTCOMES AND QUALITY OF LIFE MEASURES, AS WELL AS OTHER IMPORTANT ALZHEIMER'S DISEASE RESEARCH, AT THE AD/PD™ 2023 ANNUAL MEETING